10 outstanding Vietnam logistics events in 2019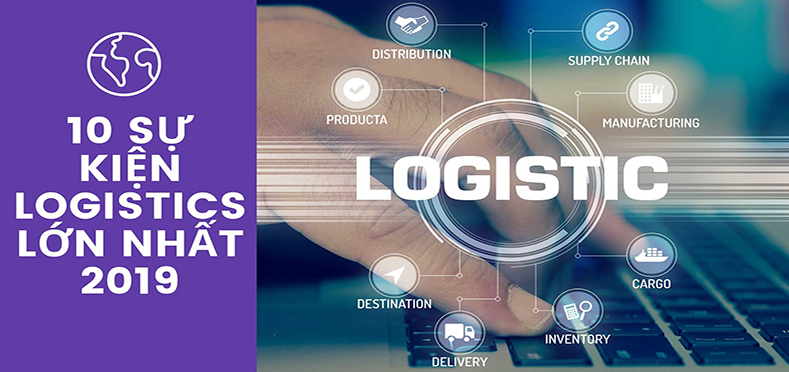 2019 continues to be a year of strong logistics development. These imprints are represented by 10 outstanding events of Vietnam logistics in 2019 selected by the Import and Export Department, Ministry of Industry and Trade:
1. The Government assigns a coordination function on logistics to the Commission 1899
The Prime Minister issued Decision No. 684 / QD-TTG of June 4, 2019, amending and supplementing Decision No. 1899 / QD-TTG of October 4, 2016, on the establishment of a National Coordinating Committee on ASEAN Single Window, National Single Window, and Trade Facilitation (referred to as the 1899 Committee). Accordingly, the Commission in 1899 added the coordination function of national logistics development. Regarding the organizational structure, in addition to the Chairman of the Committee who is the Deputy Prime Minister, the Vice Chairman of the Committee and the Minister of Finance, the Committee has another Vice President, the Deputy Minister of Industry and Trade, in charge of matters. related to logistics.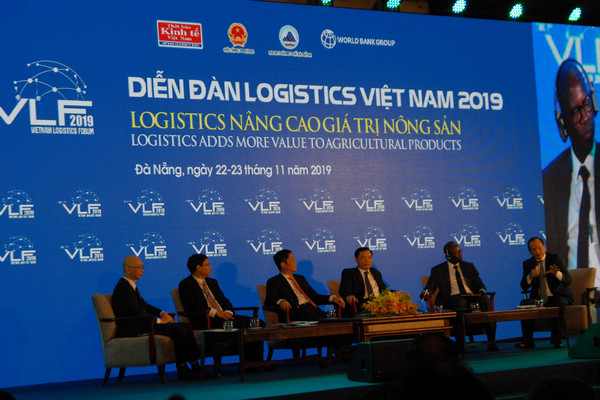 Decision No. 684 / QD-TTG reflects the Government's deep interest in the field of logistics, recognizing that logistics is a service industry that requires interdisciplinary coordination and logistics activities in close association with favorable for trade. This decision is a result of absorbing the World Bank's advice and aspirations of businesses wishing the Government to have an official logistics coordinating body with sufficient authority to make decisions to promote developing logistics services.
2. Issue the LPI Index Improvement Plan
On March 26, 2019, the Minister of Industry and Trade issued Decision No. 708 / QD-BCT approving Vietnam's Logistics Performance Improvement Plan.
The Plan sets out the goal of improving Vietnam's ranking in the Logistics Performance Index (referred to as LPI) by the World Bank from now to 2025 to 5-10 levels (in 2018, Vietnam Nam ranked 39th in the world in LPI ranking), contributed positively to improving business environment, cutting costs, improving competitiveness in providing logistics services of Vietnam, improving capacity innovation, …
The plan sets out 49 specific tasks associated with the roles of the ministries, branches, and localities, divided into task groups closely related to 6 component indicators in LPI, including:
(i) Task group on infrastructure upgrading
(ii) Task group on improving delivery capacity
(iii) Task group on capacity building and logistics service quality
(iv) Task group on technology application, optimizing access
(v) Task group on shortening time and reducing costs
(vi) Task group on improving customs clearance efficiency
(vii) Additional task group.
3. Take the largest container ship ever to dock in Hai Phong
On the morning of May 7, 2019, Hai Phong International Container Port (HICT) successfully welcomed the Wan Hai 805 vessel with a length of 330m and a tonnage of 132,000 tons. This is also the largest ship ever to dock in Hai Phong. This event once again named Hai Phong port to the list of seaports that can accommodate super-large ships in the world.
This new service route will shorten transit time from Vietnam to the US West Coast from 25 days to 19 days compared to the transshipment option at foreign ports as before.
The event further affirmed the capacity of receiving large-capacity mother ships and Hai Phong's position in the field of container port operation, which is a milestone for the development of container shipping services by trans-ocean shipping services. directly from HICT port in particular and the Northern region in general to American and European ports without going through foreign entrepot ports. The deployment of this new route has contributed to significantly reducing logistics costs and increasing the competitiveness of Vietnamese businesses.
4. Vietnam's logistics technology solution wins the Startup World Cup 2019 Championship
In the final round of the Startup World Cup 2019 held in San Francisco (USA) on May 17, 2019, Vietnam's Abidin startup excelled to win the championship with a $ 1 million reward.
In the trend of developing technological solutions to solve traditional logistics inadequacies, by applying advanced technology platforms and in accordance with regional and global characteristics, Abidin represents Vietnam has passed over 30,000 startups across the globe to take part in the contest and won this award.
This achievement affirms that Vietnam's innovative start-ups are not inferior to developed countries and are actively participating, effectively solving difficulties and exist in the supply chain at the request of the Government and urgent needs of Vietnam's logistics industry.
5. Logistics development conference in Hai Phong
Conference on "Logistics Development of Hai Phong – Enhancing competitiveness and promoting regional links" was organized by the Ministry of Industry and Trade and Hai Phong City People's Committee on 12/7/2019 in Hai Phong City. The conference was attended by the Minister of Industry and Trade, Chairman of Hai Phong City People's Committee and more than 450 delegates who are leaders of many Northern provinces and cities, representatives of businesses in logistics, manufacturing and import and export.
This is a conference on logistics development at the local level with a large scale and content. The conference listened to reports on potentials, operations, development of Hai Phong's logistics system and made specific recommendations, including logistics market development, human resource training. High-quality logistics force, in order to take advantage of Hai Phong not only as a port city but also with logistics services to increase added value from the port.
Concluding the meeting, the Minister of Industry and Trade highlighted the specific tasks that Hai Phong needs to be implemented with the active participation of related ministries and sectors in order for Hai Phong to develop into a modern logistics service center. of the region and the country.
6. Air Freight Logistics Vietnam – Conference and Exhibition 2019
Air Freight Logistics Vietnam – Conference 2019 takes place on September 19-20, 2019 in Ho Chi Minh City. This is a major event in air transport in Vietnam, held every two years, bringing together more than 400 domestic and international enterprises to attend.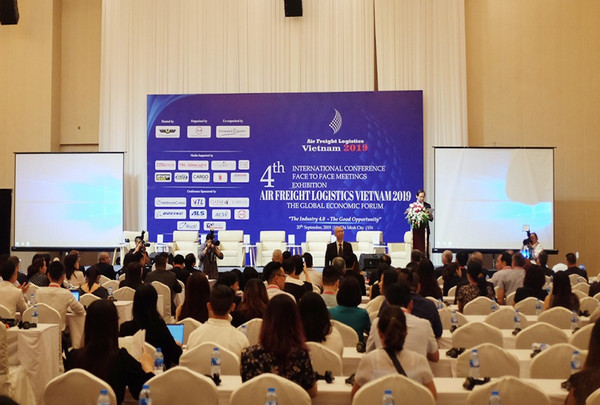 At the conference, experts and managers of domestic and international logistics industry discussed and shared the picture of Vietnam's air transport industry in particular and the world in general, through key topics such as air transport and international trade in the 4.0 era; Logistics Hub – New trends and new opportunities; international e-commerce; shortage of human resources in air transport industry …
50 booths of more than 400 businesses using and providing logistics services domestically and internationally participated in the exhibition beside the Conference.
7. Vietnam attends FIATA Conference
Vietnam Logistics Business Association (VLA) and Vietnam logistics business delegation attend the 2019 World Conference of the International Freight Forwarding Federation (FIATA), held in Cape Town, South Africa, from October 1, 2019, to advocate for Vietnam to host the FIATA 2022 International Conference and the Asia Pacific FIATA Conference (RAP) 2020.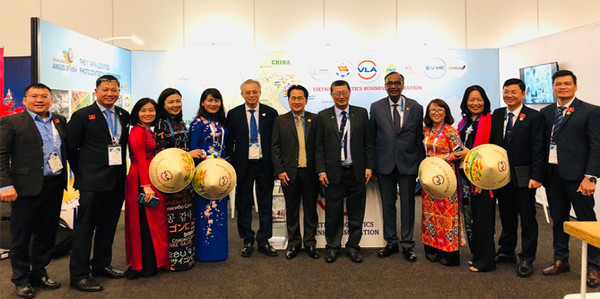 This is an outstanding important external activity of VLA in 2019 with active support through the Letter of VLA support hosted by Minister of Industry and Trade Tran Tuan Anh, Government Office and Prime Minister Nguyen Xuan Phuc. The people's extensive diplomatic activities and exhibition at the Conference have left a strong impression on friends in the world logistics community, creating great advantages for campaigning to host the Conference in 2023. Through this, VLA has received great support from the world's logistics associations, successfully campaigning to bring the 2020 FIATA RAP Conference to Vietnam with most votes.
8. Vietnam Logistics Forum 2019
Vietnam Logistics Forum 2019 held on 22-23 November 2019 in Da Nang is the 7th Logistics Forum and the first to be held in Central Vietnam. The forum was chaired by Deputy Prime Minister Vuong Dinh Hue, attracting the participation of more than 500 delegates from ministries, localities, domestic and international enterprises.
As a series of activities including the whole session "Logistics to improve agricultural value", two special sessions "Logistics connecting the East-West Economic Corridor" and "Sharing economy in logistics" together with activities a practical survey and connecting businesses on the sidelines, a forum to discuss practical issues of Vietnam's logistics industry in relation to the agricultural industry in the face of the development trend of digital technology; focus on analyzing and devising logistics development solutions along the East-West Economic Corridor, creating an important driving force for the development of the Central Vietnam key economic region.
At the forum, the Minister of Industry and Trade awarded certificates of merit to 20 units and individuals with outstanding achievements in developing logistics services. A number of businesses have signed contracts and memorandums at the Forum. Vietnam Logistics Report 2018 was also published on this occasion
9. AFFA Conference 29
The 29th annual meeting of the Federation of ASEAN Freight Forwarding Associations (AFFA) takes place in Ho Chi Minh City on November 29-30, 2019.

The conference is expected to have the participation of 100 delegates including AFFA Board of Directors, representatives of 10 member associations, transport, and logistics businesses of member countries. Delegates attending the meeting discussed ways to promote cooperation in logistics, logistics, and transport among ASEAN countries, including harmonizing procedures to promote cross-border transport.
On the sidelines of the Conference, there were also B2B meetings between businesses of ASEAN countries.
10. Vietnam Logistics Young Talent Contest 2019
Vietnam Logistics Young Talent Contest 2019 is one of the activities organized by the Vietnam Logistics Training Network. This is the first time a logistics competition has been held on a national scale and has received the attention and response of many young people.
The online round of the annual competition attracted more teams from 40 universities and colleges nationwide. Experiencing the semi-finals, 12 excellent teams were selected to enter the final round. At the final round held on December 1, 2019, in Ho Chi Minh City, the Banking Academy team won the championship.
The contest is considered not only a useful playground for students, thereby understanding and orienting careers about logistics, but also contributing to raising the awareness of society in the field of logistics, promoting the attention of all levels and branches to the preparation of high-quality human resources for logistics.
Source: moit.gov.vn/web/guest/tin-chi-tiet/-/chi-tiet/10-su-kien-logistics-viet-nam-nam-2019-17458-16.html
Bài viết liên quan
Dear Customers, DAS Vietnam Global Co., Ltd. kindly to advised that out office will be closed for National Independence Day as following: We will be off work from Saturday, September 2 to Monday, September 4; and will resume normal operations on Tuesday, September 5. If you have any questions or need any assistance with your […]
Xem thêm